a letter from the pastors.
Welcome to Second Chances Church! In response to God's call, we have planted this church to reach New Tampa with the love of Christ. We are a multicultural and diverse group of people who are seeking to know Him and make Him known. Join us at AMC Highwoods 20 Theaters, Sundays at 10am, to feel the presence of God as we worship and study His word. Plus, you'll even get free coffee and donuts!
Blessings and Much Love,
Pastor Paul and Christina
We are a church that wants to engage in more than just Sunday service. So, as a church family, we meet together to serve our community and to just have fun with one another. Take this opportunity to see what events are coming up and mark your calendars!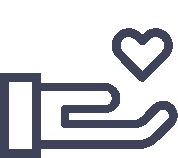 "​Each man should give what he has decided in his heart to give, not reluctantly or under compulsion, for God loves a cheerful giver."